Earth Day: How the antiwar movement inspired world's largest green campaign
(Read article summary)
Earth Day was launched 41 years ago today by a US senator who was alarmed by the 1969 Santa Barbara oil spill and inspired by the student antiwar movement.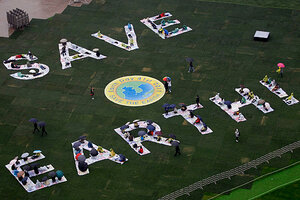 Jo Yong-Hak/Reuters
In the 1960s, student activists seemed more concerned with foreign conflicts such as the Vietnam War than with cleaning up the environment.
Then the largest oil spill in US history occurred off the coast of California, leaking an estimated 100,000 barrels of crude into waters near Santa Barbara in 1969 (it has since been eclipsed in size by Exxon Valdez and the BP Gulf spill). A US senator from Wisconsin visited the site and was so moved by the devastation that he proposed a "national teach-in on the environment."
From where could he find the organizers and participants for such an event?
Sen. Gaylord Nelson (D) of Wisconsin immediately looked to the student antiwar movement. He not only modeled his first-ever Earth Day in 1970 on the Vietnam War teach-ins of the time, but he also rallied those fervent protesters to join his environmental awareness campaign and make it a nationwide happening, according to the Earth Day Network website.
---