The mystery of Confucius' disappearance from Tiananmen Square
(Read article summary)
When a 31-foot statue of Confucius was recently unveiled, it symbolized the Chinese government's new embrace of traditional values. But then it was dismantled in the dead of night.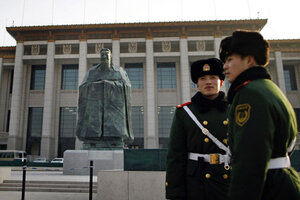 Andy Wong/AP
As politically significant tea leaves go, a 31-foot statue of the Chinese sage Confucius is an unusually large tea leaf. But scholars, political analysts, and bloggers are reading a lot into its sudden disappearance from Tiananmen Square.
Four months ago, when the gleaming bronze was unveiled just across the road from the famous portrait of Mao Zedong, it was widely interpreted as a dramatic sign of the Chinese government's embrace of traditional values.
Perhaps not. In the dead of night last Thursday, the statue was dismantled. Workers left some ugly blue corrugated iron fencing in its place.
"This may mean the left wing is growing more powerful in China," speculates Kong Weidong, spokesman for the International Reunion Association of Confucius' Descendants. "This was definitely a government decision."
Confucius is a controversial figure in China. For centuries his philosophy guided the country's rulers, but Mao branded him a feudal and backward influence. During the Cultural Revolution young radicals destroyed and defaced Confucian temples and artifacts.
---