China official calls the US 'simple,' Clinton calls out China: How honest is too honest?
(Read article summary)
Comments that US Secretary of State Hillary Clinton and a top Chinese official made this week suggest that candor is not always going to lead to sweetness and light.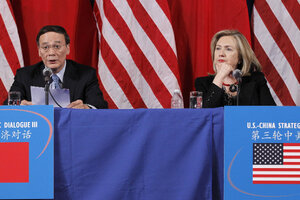 Jason Reed/Reuters
It is oft repeated of the often prickly US-China relationship that the more frequently the two sides talk honestly to each other, the easier it will be for them to resolve their differences.
But is this really true?
A couple of comments that top American and Chinese officials made this week suggest that saying what they really think of each other is not always going to lead to sweetness and light.
RELATED World's top 5 economies: Most Americans already think China is No. 1
Wang Qishan, a deputy premier in the Chinese government, was in Washington on Monday as co-leader of Beijing's delegation to the two-day "Strategic and Economic Dialogue," an annual talkathon that is the cornerstone of the two nations' efforts to understand each other.
Mr. Wang took time off to appear live on The Charlie Rose Show – a brave move for a Chinese official unaccustomed to being grilled by journalists – and as he sought to explain why China's "ancient civilization … of the Oriental culture" was so hard for foreigners to understand he let slip a telling judgment.
"The American people, they're very simple people," he said.
Now, this is an opinion you hear often enough at intellectual salons in Paris. It may not even have sounded particularly shocking to the sophisticates who make up the bulk of Charlie Rose's audience.
But while there is no doubt that the idea of Americans' "simplicity" is especially deeply embedded in the minds of the Mandarins in Beijing intent on restoring The Middle Kingdom to its rightful place in the world, they do not normally give voice to such thoughts. That may be partly because they are too diplomatic to publicly slag off the world's strongest superpower as a bunch of cornball hicks; but it is also because they do not often have the opportunity to do so. It is only because Wang was in Washington, talking to his American counterparts, that he did the interview with Mr. Rose in the first place.
---