Israel's navy trains for second major Gaza flotilla
(Read article summary)
Another Gaza flotilla will set sail next month with the Mavi Marmara flagship, which Israeli navy commandos raided last year, killing nine activists in violent clashes.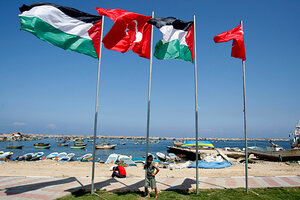 Hatem Moussa/AP
• A roundup of global reports
The day before the one-year anniversary of the international flotilla that aimed to break the Israeli naval blockade on the Gaza Strip, international activists announced plans for another flotilla at the end of June.
The organizer of the flotilla will once again be the Turkish Islamic group IHH (The Foundation for Human Rights and Freedoms and Humanitarian Relief), and the Mavi Marmara, the lead ship in the 2010 flotilla, will participate. According to Agence France-Presse, 1,500 people from about 100 different countries will be on board the ships, which will carry humanitarian aid, medical equipment, school supplies, and construction materials.
Last year's flotilla ended with the death of nine activists when the Israeli navy intercepted and clashed with the Mavi Marmara. The confrontation sparked international condemnation and dealt a severe blow to Israeli-Turkish relations. There was also an uproar in Israel over the lack of preparation for the incident, both with how to respond militarily and how to handle the public relations disaster of an attack on a self-described humanitarian group – albeit one the Israeli military said armed itself with knives and makeshift clubs.
The Monitor reported in June 2010, a few days after the first flotilla, that Israelis were "frustrated with their leaders for walking into what they say was a transparent 'trap'' of confrontation with pro-Palestinian activists – and botching the mission."
---