Three ways to ensure a movie becomes a blockbuster in China
(Read article summary)
The state wants its "The Founding of a Party" to top the charts around the 90th anniversary of the Communist Party's first congress on July 1. So it's packed it with stars – and delayed the release of 'Transformers 3' and 'Cars 2.'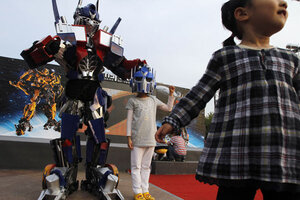 Ng Han Guan/AP
There are a number of ways to ensure that a movie becomes a box-office blockbuster in China. The upcoming epic "The Founding of a Party," which celebrates the creation of the ruling Chinese Communist party, appears to be ticking off some of the key points on that checklist.
Check 1: fill your movie with stars
For a start, the film stars more than 100 top Chinese film idols in a "flood the zone" tactic that two years ago raked in more than $65 million for "The Founding of a Republic," China's third-biggest grossing Chinese language movie to date.
Check 2: get rid of the competition
But just to make sure that the state-produced film tops the charts around the 90-year anniversary of the party's first congress on July 1, the authorities have cleared China's movie screens of potential Hollywood rivals, such as "Transformers 3" and "Cars 2." They will be authorized for release only in late July, by which time "The Founding of a Party" will have had a six-week run.
Not that the entertainment flagship of the anniversary celebrations will be the only film marking the event. Some 90 movies and TV series focusing on the creation of the party are due for release, according to the Global Times, a Communist party daily.
Check 3: spice it up?
Such "red themed" dramas rarely attract much of an audience, so some of them are spicing history up in ways that pass for daring in China's conservative social climate.
In one of the 32 episodes of "China 1921," currently airing in prime time on the main state-run TV channel, for example, Mao's wife, Yang Kaihui, cries out to the future Great Helmsman, "Let's get married, I want to give you a child."
---