What Germans think of Dallas Mavericks star Dirk Nowitzki
(Read article summary)
Dirk Nowitzki, the German forward who led the Dallas Mavericks to the NBA title, delights home audience with German grit, American glamour.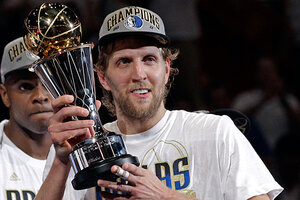 David J. Phillip/AP
Basketball may not be as popular in Germany as it is in the US, but the crowning of the new NBA champion, led by the all-star German Dirk Nowitzki, was greeted with delight by many back home.
Mr. Nowitzki, the Dallas Mavericks power forward who hasn't played for a German club in 13 years, is on every front page and leading most news bulletins today in Germany. Sure, it's a public holiday here (Pentecost) and not much else is happening. But Nowtizki is a bona fide national sports hero in a country that currently ranks 12th on the FIBA list of best national teams.
Germans are passionate about sport, but only soccer can be described as a national sport in the way basketball, baseball, and football are in the US.
The soccer World Cup and the European Championships bring the country to a standstill, the nation glued to TV sets and giant screens in public squares.
The FIBA basketball world championships will practically go unnoticed.
I polled neighbors and family members. Not a single person could name the current German basketball champions (Brose Baskets Bamberg).
---