Takashi Murakami brings summer solstice to the Google doodle
(Read article summary)
Takashi Murakami has become a global superstar since founding the Hiropon Factory collective of young artists in Japan.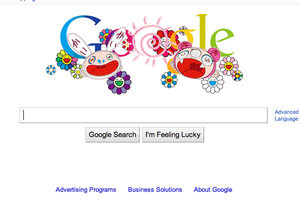 Google
Japanese hipster-turned-multimillionaire artist Takashi Murakami's trademark psychedelic flower faces, narcotized eyes, and menacing mouths have been seen in a lot of places: from MOCA in Los Angeles, the Brooklyn Museum in New York, the Museum of Fine Arts in Boston, and the Guggenheim in Bilbao, Spain, to the sides of Louis Vuitton handbags and the covers of a Kanye West album. Today, they've taking root in cyberspace. Mr. Murakami has contributed the latest so-called Google doodle, a time-specific embellishment of the search engine's corporate logo meant to commemorate a significant occasion – in this case, the official start of summer 2011.
Murakami emerged as a self-styled late century Andy Warhol in 1996 when he founded the Hiropon Factory, a collective of young artists who would reproduce his works like widgets. I first encountered his art in the form of a sculpture called Hiropon: a wide-eyed girl-woman with comically massive breasts swinging a stream of lactating milk like a jump-rope around her skipping body.
---