Ai Weiwei's release elicits calls for China to free more dissidents
(Read article summary)
Many world leaders and activists are using Chinese artist Ai Weiwei's release to urge China to ease restrictions on dissent.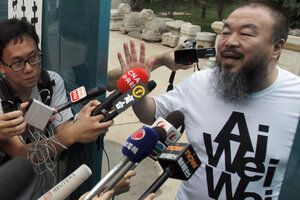 Ng Han Guan/AP
• A roundup of daily news sources.
Chinese dissident artist Ai Weiwei's release from prison after almost three months in detention was met quietly by world leaders and activists who, while happy about Mr. Ai's freedom, are still alarmed by the degree to which free speech remains curtailed in China.
Three of his associates are still missing, the Guardian reported, and many other Chinese dissidents remain missing or in detention. Amnesty International reports that at least 130 dissenters have been jailed since February. Ai is apparently not totally free either – he not permitted to leave Beijing and is forbidden from speaking to the media for at least a year, per the conditions of his bail, The Wall Street Journal reported.
"It's always a good thing when an individual, as we said, who's only in prison for exercising his internationally recognized human rights is released," said US State Department Spokesman Mark Toner Wednesday at a press briefing. "But there's obviously more individuals who are being held."
---