$22 billion in gold, diamonds, jewels found in Indian temple's secret vaults
(Read article summary)
Gold coins, diamonds, and other precious stones discovered in the vaults of a Hindu temple in southern India are worth an estimated $22 billion. Debate is brewing about what to be done with the riches.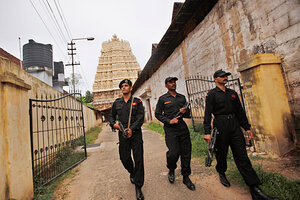 Aijaz Rahi/AP
It's a find worthy of a "Raiders of the Lost Ark" plot line: Jewels, gold trinkets, coins, and statues worth an estimated $22 billion were uncovered in a series of secret vaults beneath a Hindu temple in the southern Indian city of Thiruvananthapuram.
The loot includes about 1,000 kilograms (2,205 pounds) of gold coins – some dating back 400 years – ropes of gold, sacks of diamonds, and a gold statue of the Hindu god Vishnu studded with precious gems, as well as an 18-foot solid gold ornament weighing 35 kilograms (77 pounds) and rare silver and brass platters.
So far the find is worth nearly double India's 2011-2012 education budget ($11.61 billion) – and there's still another vault to be unlocked. The 16th century Sri Padmanabha temple, in the capital of the southern coastal state of Kerala, is now considered to be the richest of India's temples.
So just where did the riches come from?
The temple is controlled by descendants of the royal family of Travancore, the former princely state of the region. It is believed the former rulers donated much of their wealth to the temple, where it lay in safe keeping for decades. Offerings by the many worshippers making pit stops there along the global trade routes probably also contributed to the treasure.
---