Women's World Cup victories boost Japan's morale
(Read article summary)
Japan will face the US on Sunday in the Women's World Cup final in Germany. The team's success in the Cup has lifted a nation rocked by the devastation of the March 11 earthquake, tsunami, and subsequent nuclear disaster.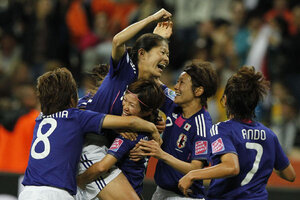 Ding Xu/Xinhua/Newscom
Hungry for some good news after the devastating March 11 earthquake and tsunami – and the resulting, ongoing nuclear crisis – the country has latched on to the success of the Japan women's national soccer team as it reached its first World Cup final by defeating Sweden 3-1.
"When you're in a tough spot, think of the disaster victims and give it your all," team coach Norio Sasaki told his players before Wednesday night's semi-final against Sweden.
A tough spot was exactly where Japan found itself after going behind to an early goal following an uncharacteristic mistake from captain Homare Sawa, a veteran of five world cups. Ms. Sawa redeemed herself in the second half by putting Japan in the lead with a goal, in between two goals by teammate Nahomi Kawasumi.
Public broadcaster NHK had been covering the women's team from the beginning of the tournament, with interest growing from the rest of the media as Nadeshiko Japan – as the team is called after a flower that is said to embody the ideal of Japanese femininity – has progressed to its first medal in a World Cup.
---