The wave of Afghan assassinations underscores a complicated security situation
(Read article summary)
A reporter struggles to figure out what the murder of two sources says about the state of the Afghanistan war.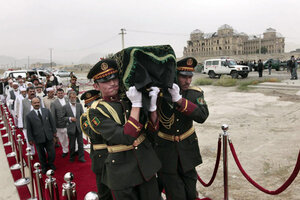 Dar Yasin/AP
Afghanistan has always seemed to be a difficult country to read, but as the NATO has begun looking to exit, ever more divergent narratives are emerging. As a firsthand observer to it all, I'm often asked which narrative to believe. Is or isn't Afghanistan ready for drawdown?
The best answer I can come up with? It's complicated.
Last night, Hashim Watanwal, a member of parliament from Uruzgan province was killed while visiting Jan Mohammed Khan, a senior adviser to President Hamid Karzai and major power-broker here. Two suicide bombers entered Mr. Khan's house in an a presumably secure neighborhood of Kabul and killed the two men.
While I'd never met Mr. Watanwal in person, I'd talked to him several times over the phone, most recently on Thursday, and he proved a helpful and friendly source. He's also the second person I've talked to in recent months who has been killed within days of speaking with me: The other was Gen. Khan Mohammad Mujahid, police chief for Kandahar Province.
Though Watanwal and General Mujahid held different opinions about where the country was headed shortly before their deaths – Watanwal was cynical and Mujahid said he'd seen major improvements – their murders inside secure compounds stand as a stark reminder of how unstable Afghanistan remains.
---