Cameron denounces UK rioters as 'immoral.' But he's under fire, too.
(Read article summary)
A week after a murder sparked riots and looting in London and beyond, Prime Minister David Cameron addressed Parliament for nearly three hours today. Here's how Britain responded.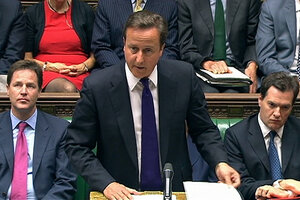 Parbul TV via Reuters TV/Reuters
British Prime Minister David Cameron cut parliament's vacation short to discuss the riots that have rocked London and other English cities in the past week.
He spoke and fielded questions for close to three hours. Guardian columnist Julian Glover called it "a parliamentary form of kettling: keep the trouble makers in one place and keep them talking." ("Kettling" is a tactic used by the British police to diffuse angry crowds. Officers surround the crowd, allowing people out gradually.)
According to Telegraph political correspondent James Kirkup, Cameron "cast this week's events as a 'deep moral failure': the people responsible have done bad things and should be punished, he said. Not only have the rioters been immoral, he said, in many cases so have their parents… The potential consequences of neglect and immorality on this scale have been clear for too long, without enough action being taken." He promised "a more moral Britain, a country where people behave better."
Here's Cameron in his own words:
We need to show the world, which has looked on, frankly, appalled, that the perpetrators of the violence we have seen on our streets are not in any way representative of our country – nor of our young people.

We need to show them that we will address our broken society, we will restore a... stronger sense of morality and responsibility – in every town, in every street and in every estate.
---