Scotland: Beg your pardon, these are not 'UK' riots
(Read article summary)
Scotland's First Minister Alex Salmond has criticized the BBC and others for using the overly broad term UK riots when so far the riots have been limited to England.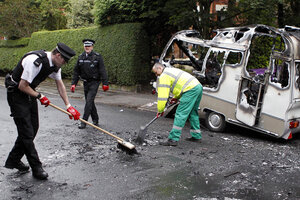 Peter Byrne/PA/AP
Some say he is guilty of political opportunism. Others have called his tack "small-minded." But Scotland's leader, First Minister Alex Salmond, has slammed referrals to the carnage that hit London and other British towns and cities as "the United Kingdom riots."
The main target of the Scottish leader's wrath appeared to be the BBC. Mr. Salmond took issue with its use of the all-encompassing UK – which includes Scotland, Wales, and Northern Ireland, as well as England – to describe the unrest in English cities. So far, there have been no riots or looting anywhere in the UK other than England.
One of the chief concerns is the potential effect the riots could have on Scottish tourism – overseas governments advised their citizens to avoid traveling to Britain, which technically includes Scotland and Wales but is often used to refer to England alone or to the whole UK.
The BBC responded to the Scottish complaints by changing its onscreen TV strapline to "England Riots."
---