Cameron's London riots speech raises British ire
(Read article summary)
Prime Minister David Cameron's speech yesterday about the roots of last week's riots had no shortage of critics.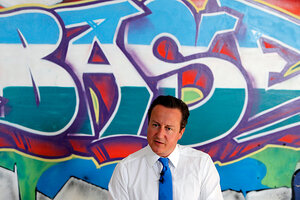 Alastair Grant/AP
A day after Prime Minister David Cameron called London rioters the product of dysfunctional families, the British press has seared Mr. Cameron for his speech on the riots, saying he is seeking political gain while not grasping the roots of last week's violence.
Prime Minister Cameron "denied that racial tensions, poverty, or his government's controversial austerity cuts were to blame. He claimed there were around 120,000 problem families in Britain who had little respect for authority, singling out boys raised without a male role model as especially prone to 'rage and anger'," The Christian Science Monitor reported yesterday.
"These riots were not about race: The perpetrators and the victims were white, black, and Asian. These riots were not about government cuts: They were directed at high street stores, not Parliament," said the Conservative prime minister. "And these riots were not about poverty: That insults the millions of people who, whatever the hardship, would never dream of making others suffer like this.

"No, this was about people showing indifference to right and wrong, people with a twisted moral code, people with a complete absence of self-restraint," he said.
In the past 24 hours, opinion writers have weighed in.
---