Russia's Medvedev eyes energy gains as he meets with North Korea's Kim Jong-il
(Read article summary)
Kim Jong-il has reportedly agreed to return to six-party talks. Medvedev also got a go-ahead to use North Korea as a transit corridor for a natural gas pipeline to South Korea.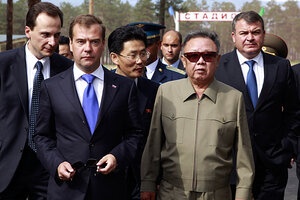 Dmitry Astakhov/Presidential Press Service/RIA Novosti/AP
North Korea's reclusive leader Kim Jong-il has agreed with Russian President Dmitry Medvedev to return, without conditions, to the stymied six-party talks on the country's nuclear weapons program, and to consider a moratorium on WMD development as part of an agreement to build a Russian gas pipeline through his isolated Stalinist state to South Korea.
The deal, which is a potential foreign policy breakthrough for the Kremlin, came at a Siberian summit between the two leaders today, at the climax of one of Mr. Kim's rare excursions to Russia aboard his personal armored train.
The official ITAR-Tass news agency quoted Mr. Medvedev's spokeswoman, Natalya Timakova, as saying that the agreement was reached amid a friendly meeting in Ulan Ude, near the shores of Siberia's Lake Baikal, which is about midway between Pyongyang and Moscow on the 10,000-km long Trans Siberian Railroad.
---