In Sweden, no 'he' or 'she,' just 'friend'
(Read article summary)
In an effort to combat gender stereotypes, a government-funded preschool in Stockholm has eliminated the use of gendered pronouns.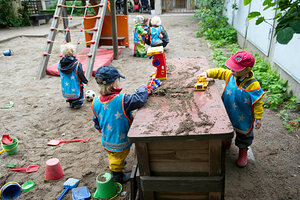 Fredrik Sandberg/Scanpix Sweden/AP
• A local, slice-of-life story from a Monitor correspondent.
Here in Stockholm – at the taxpayer-funded preschool Egalia – girls are encouraged to play with trucks, boys with toy kitchens. And while many progressive preschools make moves in that direction, Egalia steps it up. Referring to someone as "he" or "she" is not allowed. Only "friend" will do.
Alexander Söderqvist, a teacher at the school, says he believes in helping the youngest members of society avoid gender-based stereotypes. "It's fun to be part of something different," he says, adding that there is a waiting list for entry to the school.
Others note that Sweden has long been a leader in promoting gender equality (jämstalldhet). A study published last year by the World Economic Forum – "The Global Gender Gap Report 2010" – ranked Sweden fourth worldwide (behind Iceland, Norway, and Finland).
But some critics of Egalia, where teachers and staff select books and activities aimed at discouraging rigid, gender-specific play among the 1-to-6-year-olds, say the Swedes may have gone too far.
Jeanne Sager wrote recently on the parenting website CafeMom that "inside the walls of Egalia, gender doesn't exist. But outside of Egalia, gender does exist. ... I want my daughter to be equal to boys, but that doesn't mean that she should ignore her femininity..."
---
Follow Stories Like This
Get the Monitor stories you care about delivered to your inbox.