US commission finds widespread waste and corruption in wartime contracts
(Read article summary)
Wartime contracting is more prone to waste than in-house spending because it is harder to keep tabs on the money and motives of the private contracting firms, says a bipartisan legislative commission.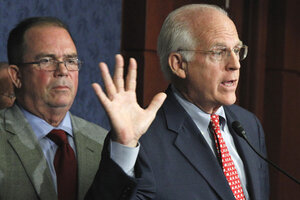 Manuel Balce Ceneta/AP
The US government's over-reliance on wartime contractors in Iraq and Afghanistan has resulted in as much as $60 billion in waste and fraud – and it's likely to worsen without reform.
That's the main message coming out of a new report from the bipartisan Commission on Wartime Contracting. The report suggests that contracting is more prone to waste than in-house spending because of the greater difficulty in overseeing the spending and the profit motive of the private contracting firms. (See the pdf of the report here).
Moreover, a different set of commitments tend to bring a contractor versus a soldier or State Department official into a conflict zone. In general, it's a little less for country, a little more for wallet.
"I am having a good war," one American contractor told me in Kabul on a visit last year, admitting that the pay has been great, especially in a down US economy.
I have met some contractors who grew attached to Afghanistan, even setting up their own charitable organizations to help. But it is also true that there is a roving band of contractors who are on a circuit of conflict zones, jumping from contract to contract with few institutional or other long-term commitments. Sustainability, sense of mission, and quality can suffer.
---