Good Reads: World reaction to Obama's jobs speech
(Read article summary)
For Britain's Guardian and Economist, Obama's jobs speech was all about partisan politics. For France's Le Monde, it was about the use of rhetoric and statecraft in guiding a powerful nation through difficult times. For the China Daily, it was all about Joe Biden.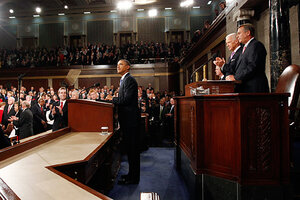 Kevin Lamarque/AP
If there is anything that can knock Libya from the top headlines, it is America's 9.1 percent unemployment rate, and President Obama's speech on the jobs crisis last night before a joint session of Congress did just that.
Europe and Asia's preoccupation with America's unemployment rate is easy to understand. The US consumer economy still drives that of much of the developed world, as Americans buy Volvos, BMWs, and Toyotas, Nokias, Blackberries, and Samsungs, and it puts lots of European, Asian, and yes, Canadians to work. As much as the rest of the world might hate to admit it, a stalled or failing American economy means a stalled or failing British, French, Japanese, and even Chinese economy as well.
Here's a look at how the world's press viewed what many see as President Obama's first campaign speech of the 2012 election season.
Britain's left-leaning newspaper, the Guardian, lists many of the bigger chunks of what it calls a "strongly partisan" $447 billion jobs plan, the biggest piece of which is a $175 billion payroll tax cut for workers. It then moves quickly into the politics of the moment, which makes this bill so important.
Obama's speech was combative at times, and the Guardian's Ewen MacAskill captures this line that would not have been out of place in Britain's own "Prime Minister's Questions":
"This isn't political grandstanding. This isn't class warfare. This is simple math."
---