Good Reads: Taliban's Kabul attack, looming demise of Al Qaeda... and the euro
(Read article summary)
Today's top stories include a report that the Taliban attack on Kabul may have been a 'last gasp.' Also; how Al Qaeda is being eclipsed by its affiliates. And is the eurozone on its last leg?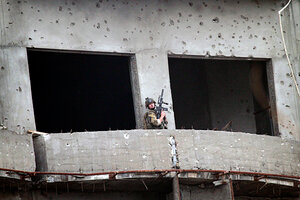 Musadeq Sadeq/AP
It wasn't the Tet Offensive, but yesterday's sustained rocket attack on Western embassies and the International Security and Assistance Force (ISAF) headquarters in Kabul has certainly rocked American military planners, who have been preparing to draw down US forces in Afghanistan and to hand over the security role to the Afghanistan Army.
Just as a reminder, the Tet Offensive was a massive wave of attacks by Viet Cong insurgents against US forces and the government of South Vietnam on Jan. 31, 1968, involving 80,000 troops, in coordinated attacks against 100 towns, with pitched battles reaching the South Vietnamese capital of Saigon, or Ho Chi Minh City, as it is now called.
Yesterday's attack in Kabul, by contrast, was thought to have been carried out by the Haqqani wing of the Taliban, and involved just nine insurgents. Those nine Taliban fighters managed to kill 7 people and wound 19 others, and lob a rocket into the US Embassy compound. More important, these fighters waged their post-Sept. 11 extravaganza for some 20 hours, raising questions about Kabul's ability to defend itself once US and allied forces leave the country by 2014.
---