Turning propaganda on its head in South Korea
(Read article summary)
A North Korean defector who created government propaganda before fleeing the country now uses his old work to criticize the man and country it honored.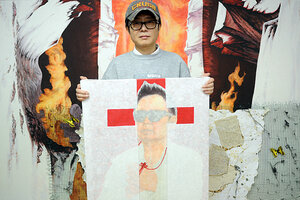 Park Ji-hwan/AFP/Newscom
• A local, slice-of-life story from a Monitor correspondent.
For Song Byeok, getting out of his homeland came at a price. The soft-spoken artist left North Korea in 2000 to find food as famine ravaged large parts of the country. Caught trying to cross the border, he spent seven months in a North Korean prison camp. After being amnestied, he successfully sneaked into China. A year later, he arrived in Seoul, South Korea.
Before fleeing to China, Mr. Song was a propaganda artist. In a rural studio south of the capital, Pyongyang, he created grinning portraits of "Dear Leader" Kim Jong-il and vibrant billboards of revolutionary workers and peasants. Now safely in Seoul, he has turned the regime's ubiquitous propaganda imagery back on itself with a series critical of Mr. Kim.
"When a person's born, their first human right is freedom, and every individual has their own freedom," he says. "The only country that doesn't have any of these things in the whole world is North Korea."
---
Follow Stories Like This
Get the Monitor stories you care about delivered to your inbox.