Good Reads: World reacts to Troy Davis execution with vigils, debates
(Read article summary)
The hope expressed at late-night vigils from Paris to Hong Kong turned to revulsion as the US state of Georgia carried out its execution of Troy Davis.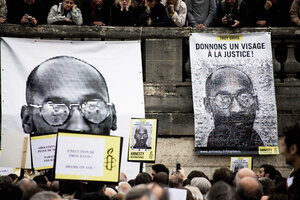 ZUMA Press/Newscom
Events in the United States seem to be dominating global headlines, between the execution of Troy Davis and world leaders in New York debating whether to support a Palestinian statehood bid at the UN.
Debates filled the world's editorial pages over whether the death penalty is effective at deterring crime, administered fairly, used more often against blacks than whites, and whether it is morally sound in a nation that champions human rights on a global stage. Symbolic protests were held from Hong Kong to the Place de la Concorde in Paris.
But in the end, Troy Davis – who was convicted in the shooting death of a Georgia cop, Mark MacPhail – was put to death by lethal injection. The BBC was one of the few news organizations that mentioned in its Troy Davis coverage that another man, Lawrence Russell Brewer, an admitted white racist, was also executed last night – in the state of Texas – for the 1998 dragging death of James Byrd Jr., a black man.
---