Good Reads: Protests in Syria, Soviets in Kabul, US-Pakistan breakup
(Read article summary)
Al Jazeera spends seven weeks with both sides of the protests in Syria; the Guardian's reporter unpacks a 1981 trip to Afghanistan, and Pakistanis are losing that loving feeling with the US.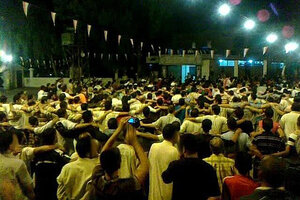 Reuters
• Good Reads highlights the best reporting and analysis available on the top international stories of the day – and other key topics you shouldn't miss.
People like to get their news for free these days, which is reasonable enough. Information about the world feels as if it should be a right, like oxygen or clean drinking water. But today's good reads, which takes us to and explains the situations in Syria, Afghanistan, and Pakistan can't help but bring to my mind this question: How long can newspapers continue to provide great news for free?
This kind of reporting costs money. Reporters eat food, they stay in hotels, they use cell or satellite phones in foreign countries, they take taxi rides and planes into dangerous places and then take them home again. Oh, and reporters like to get paid for the stories they write – at least a little something. You'd be shocked at how little money many reporters are willing to take for this service, even after facing a hail of gunfire or tear gas.
Good reporting is more than mere adrenalin, of course. The ability to make sense of an exciting event – a bomb blast in Kabul, a protest in Syria, an election in Zambia, or a famine in Somalia – is the reason reporters (should) make the big bucks.
Nir Rosen, a special correspondent for Al Jazeera's English service, does a stand-out job this week making sense of his time throughout the past seven weeks on both sides of the ongoing Syrian protests. Mr. Rosen finds that patience is running thin on both sides. A protest movement that started out with fearless nonviolent confrontation of the Bashar al-Assad regime is increasingly using violent attacks, and the government, resorting to increasingly harsh treatment of protestors, is finding that just hasn't stopped the opposition.
---