Good Reads: Amanda Knox released, Panetta in Israel, and US foreign aid cuts
(Read article summary)
With Amanda Knox's murder conviction overturned, the world's press can now return to other matters, such as the Israeli-Palestinian peace process and looming US foreign aid cuts contemplated by Congress.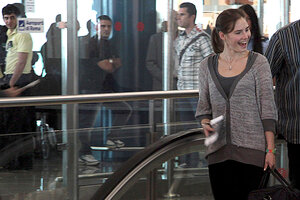 Telenews/ANSA/Reuters
Good Reads highlights the best reporting and analysis available on the top international stories of the day – and other key topics you shouldn't miss.
Many of today's papers lead with the news of American exchange student Amanda Knox's release from prison after an Italian appeals court overturned her conviction for the murder of Meredith Kercher. Of the three people originally convicted of the crime, only Rudy Guede remains in jail, where he is serving 16 years.
Henry Chu of the Los Angeles Times does probably the best job of summing up the controversy surrounding Ms. Knox's trial-conviction-appeal-freedom, noting that the controversy over Italy's justice system is just beginning for many Italians.
As Mr. Chu writes, "the acquittals are unlikely to quell public debate, especially among Italians who feel their judicial system has been smeared by the American media and others who accuse the authorities in Perugia of railroading Knox in a staggering miscarriage of justice."
The New York Times' Elisabetta Povoledo captures the drama of the moment, with Knox collapsing into her lawyer's arms after the decision was announced, capable of saying only "thank you." (It should be noted that the Times put its Knox piece further down on its website, the most prominent space to a fascinating science article on the evolutionary adaptation of slime.
---