Good Reads: The world bids farewell to its 'reinventor,' Apple's Steve Jobs (video)
(Read article summary)
Steve Jobs leaves the world better off than he found it, using technology to simplify everything from office tasks to reading or listening to music.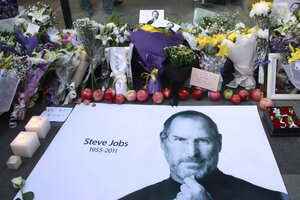 Ng Han Guan/AP
Good Reads highlights the best reporting and analysis available on the top international stories of the day – and other key topics you shouldn't miss.
With the passing of Steve Jobs last night, the world's papers are carrying lengthy obituaries, personal essays by his colleagues, and business stories about Apple's future now that its founding genius is gone.
Among the best at describing how Steve Jobs changed the world is the New Yorker's Ken Auletta, who writes that Jobs "was a great, transformative, and historical figure."
What will stand erect like an indestructible monument are the things Steve Jobs created that changed our lives: The Macintosh; the iTunes store that induced people to pay for music and other content; Pixar, which forever changed animation; the iPod, iPhone, and iPad. These were more than technological feats, but Apple products were beautifully designed, as well. For three decades, even as he got older, Steve Jobs and Apple remained "cool."
---