Steve Jobs's death sets off global tributes and industry action
(Read article summary)
Steve Jobs's Apple products reached across the globe, and so is news of his passing, particularly in Asia, where his innovation transformed the technology industry.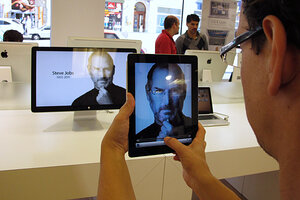 Selcan Hacaoglu/AP
Steve Jobs's Apple products changed the world, and if the outpouring of tributes to him worldwide – as well as the ripples in the business and technology world – are any indication, his death will too.
South African political newspaper The Daily Maverick was still leading its homepage with news of his death by Thursday evening, local time. South African journalist Richard Poplak penned a tribute to Jobs in which he heralded him as the "Shakespeare of our time" and said that he "owned the future."
The late guru of Apple Inc., a visionary by any definition of the term, was also not interested in "real". He was concerned with the future on his own terms, defined by innovations that he created, through a vessel that exemplified his understanding of the world, or at least how it should be. …

It is culturally vital to acknowledge the following: Steve Jobs was perhaps the greatest postmodernist who ever lived. He employed the art of minimalism to enhance technology; he employed technology to advance the art of the minimal. He constantly revised "now", as if the moment was a canvas that was stretched only as a palimpsest, to be scrawled over by technological development and a belief in the free market that was second to none.
---