Good Reads: an Iranian plot to kill Saudi ambassador, and smooth Liberian elections
(Read article summary)
Today's papers focus on the alleged Iranian plot to assassinate the Saudi ambassador in Washington, but watch also some positive news from Africa, where Liberian elections appear to be free of violence.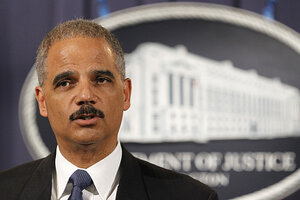 Haraz N. Ghanbari/AP
Good Reads highlights the best reporting and analysis available on the top international stories of the day – and other key topics you shouldn't miss.
Today's papers are full of details of an alleged plot by the Iranian government to assassinate the Saudi Arabian ambassador to the US. If carried out, the assassination plot would have involved a bomb blast at a Washington, D.C., restaurant frequented by the Saudi ambassador, Adel al-Jubeir, and could have killed at least 100 bystanders.
Everyone agrees that the plot reads "like a Hollywood script." The Paris newspaper Le Monde describes it as "un scenario 'Hollywoodien.'"
The Washington Post's Craig Whitlock and Liz Sly write that the rivalry between the Saudi kingdom and Iran is part of a larger battle for regional hegemony that is rooted in the centuries-old schism between Islam's two main branches, Sunni and Shia. Iran – the center of Shiite Islam – sees the Saudi ruling family as corrupt and inappropriate guardians of the holiest shrines of Islam. Saudi Arabia, which sees itself as the bastion of Sunni Islam, sees the Iranian regime as dangerous revolutionaries with nuclear-weapons aspirations.
---