Will the Occupy Wall Street protests come to China?
(Read article summary)
Occupy Wall Street protests spread to four continents over the weekend, but China's involvement was conspicuously absent.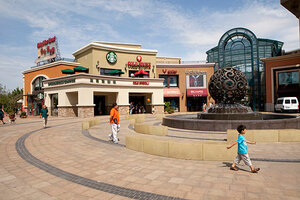 Melanie Stetson Freeman/The Christian Science Monitor/File
As the "Occupy Wall Street" movement spread to four continents over the weekend, guess which major world capital did not see any protesters?
Unsurprisingly, since unofficial public gatherings of any kind are taboo in China, Tiananmen Square was not teeming with anticapitalist demonstrators on Saturday.
Not that China might not be ripe for the spreading movement: A growing gulf between rich and poor here would make this fertile ground for the 99-percenters.
And the government knows it, which is why it is censoring any effort to organize protests in China. Type "Occupy Beijing" into Internet search engines here and you get either completely irrelevant results, or references to protests in America, Japan, Singapore … anywhere but China.
There is an "Occupy Beijing" group on Facebook, but you can only get onto Facebook – which is blocked by the Great Firewall – if you have censorship-evading software, a comparative rarity in China. That makes the social networking site a poor organizing tool here.
---