Bangkok floodwaters threaten Thailand's economy
(Read article summary)
As the most severe floodwaters in decades threaten to drown Bangkok's most famous market, observers worry that Thailand's economy will also suffer.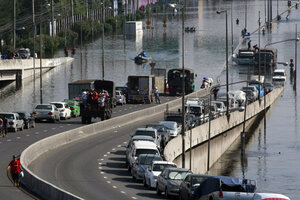 Apichart Weerawong/AP
All across Bangkok – which satellite images show to be a virtual island surrounded by the country's worst floods in decades – shops are running out of drinking water and nonperishable food as 10 million residents stock-up amid reports of a pending citywide deluge.
And as the city attempts to divert waters in an effort to minimize damages to Thailand's economic hub of Bangkok, Tinnakorn Rujinarong oversees workmen banging together a yard-high barrier meant to keep the floodwaters out of one of the world's biggest flea-markets and one of Thailand's best-known attractions.
Most weekends some 200,000 people sweat and haggle their way through the sauna-like narrow alleys running between Chatuchak Market's 10,000 shops. "Around 100 million baht is spent here every weekend," says Mr. Tinnakorn, who is the market's deputy director.
As floodwaters threaten to drown the market, observers worry that Thailand's economy will also suffer.
Barclays Capital estimates that the floods will shave almost 1 percent off Thailand's economic growth for 2011. Bangkok City Governor Sukhumbhand Paribatra told TV viewers last night that six additional city districts, including Chatuchak, should prepare to evacuate.
The waters threatening the market are now surging around the city's old international airport, raising the possibility that the temporary flood relief management center set up at the airport by the Thai Government will itself have to be evacuated.
Adding to fears has been the conflicting and contradictory messages regarding the predicted severity of the flooding. Government flood relief officials have issued less-alarmist warnings than those coming from city authorities. And now there are rumors of a partisan row over the flood management between the Bangkok governor – a member of the Democrat Party that lost the Thai elections in July 2011 – and the newly elected Peua Thai (For Thais)-led Government of Yingluck Shinawatra, sister of ousted former leader Thaksin Shinawatra.
---