As Bangkok prepares for flooding, evacuees are urged to evacuate again (video)
(Read article summary)
An estimated 4 billion cubic meters of floodwater runoff from higher areas of Thailand are slated to reach Bangkok on Oct. 26, coinciding with a high tide and rain storms.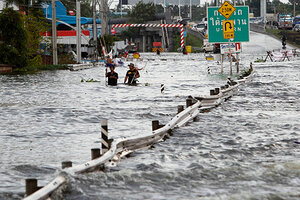 Sukree Sukplang/Reuters
As rescue workers provide aid to Thailand, inundated with the worst floods in half a century, high waters have arrived within Bangkok, threatening evacuation centers and forcing the government to announce it is now in "crisis mode."
Prime Minister Yingluck Shinawatra announced inner Bangkok, especially areas near the Chao Phraya river, were at risk for flooding in a television broadcast on Tuesday evening. "If some of Bangkok's protective flood walls are breached, Inner Bangkok could see anywhere from 10 to 150 cm [up to almost 5 feet] of water," she said, asking residents to prepare to evacuate in the next couple of days.
The potential factors combining this week for Thailand's already drenched capital have put the government on high alert. An estimated 4 billion cubic meters of water from draining from farm lands and higher elevated parts of Thailand are slated to reach the capital on Oct. 26, coinciding with a high tide on Oct. 28. On top of that, rain storms are expected to continue to drench Bangkok for the next three days.
Flood victims from all of the 33 severely affected provinces arrived by the truckload with their belongings and pets at the Don Muang airport in Bangkok Tuesday to seek refuge at an evacuation center there, but were met by muddy, rising water right at the airport's doorstep.
Amid flash flood warnings and floodwaters already more than a foot deep on the outskirts of the city, Prime Minister Yingluck declared a five-day holiday in Bangkok and 20 other provinces in a cabinet meeting that took place at a VIP terminal of the airport Tuesday morning. Don Muang airport also houses the Flood Relief Operations Center (FROC), the government's flood relief and planning "war room," an evacuee center, and a volunteer center.
---