Bangkok awaits flood as northern suburbs suffer
(Read article summary)
Although it remains unclear how much of Bangkok will be flooded, people displaced by the flood in the northern suburbs try to balance keeping themselves safe with protecting their homes.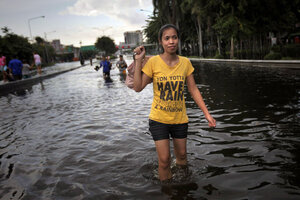 Altaf Qadri/AP
After her house in the northern Bangkok suburb of Nonthaburi was flooded to waist height a week ago, Kanokkorn Nomruen evacuated to Bangkok's Don Muang airport before being moved again to Rajamangala soccer stadium closer to the center of Bangkok.
"I think it might take four weeks for the water to go down at my home," she said, sitting on a plastic mattress in a sports building close to the stadium where she and almost 2,000 other homeless Thais are sheltering.
"They are looking after us well here," she smiled. "The worst part is being away from my daughter, who is a receptionist at Lualak hospital. She is sleeping there for now."
Don Muang airport is closed, and, after being used as a temporary shelter for the flood-displaced, was today itself almost completely flooded, as a slow-moving mass of floodwater to the north of Thailand's capital edges its way towards the center of Bangkok.
The airport is about 14 miles from the business and shopping heart of the city, which otherwise remains dry, with sandbag barriers lining plush shopfronts. How much of inner Bangkok eventually comes under water is still not clear. Earlier Friday morning, a barrier was breached in the Phra Khanong district along one of the inner city's many canals – and potential flood breaking points – that link into the Chao Praya river, which arcs and swerves through Bangkok.
Under pressure from a high tide in the Gulf of Thailand and the mass of floodwater to the north of Bangkok, the river itself has bursts its banks several times in recent days, sending water into riverside temples and residential areas close to where Thailand's elderly king, Bhumibol Adulyadej, is currently hospitalized.
---