Senior exiled Tibetan monk urges end to immolations in China
(Read article summary)
A top monk in exile has appealed to Tibetans inside China-controlled Tibet for a different approach to fighting for independence than taking their own lives.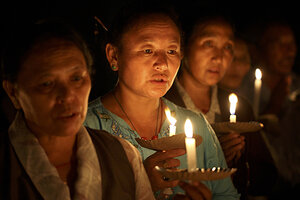 Navesh Chitrakar/Reuters
As China was busy chiding Mongolia for allowing the Dalai Lama to visit this week, one of Tibet's highest monks asked Tibetans to end the recent spate of self-immolations inside Tibet, urging them to find more constructive ways to advance their cause.
The exiled Karmapa (a religious title in Tibetan Buddhism) called the 11 Tibetans – monks, nuns, and former monks – who have set themselves on fire in protest so far this year in the southwestern Chinese province of Sichuan brave, saying that "they acted in desperation" against the injustice and repression under which Tibetans have lived under since Tibet's failed uprising against China in 1959.
"In Buddhist teaching, life is precious. To achieve anything worthwhile we need to preserve our lives. We Tibetans are few in number, so every Tibetan life is of value to the cause of Tibet," he said in an e-mailed statement, according to Reuters.
The 17th Karmapa Ogyen Trinley Dorjee, known as the Karmapa, is the most important Tibetan religious figure after the Dalai Lama and the Panchen Lama. He fled China as a boy in 2000 and joined the Dalai Lama among thousands of Tibetan refugees in India. Interestingly, he is the only top Tibetan Lama recognized by both the Chinese Communist Party and by the Tibetans.
The Dalai Lama recently described China's policies inside Tibet as "cultural genocide," responsible for the self-immolations.
---