Good Reads: GOP hopefuls debate new foreign policy. But easier debated than done?
(Read article summary)
Criticizing the Obama administration's handling of the "Arab Spring," the pullout from Iraq, and the US's response to a resurgent China is the easy part for Republican presidential challengers.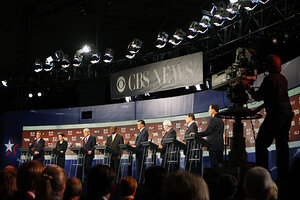 Chris Keane/Reuters
Constructing a new US foreign policy is a complicated business – both for the present occupant of the White House and for anyone who would like to take his place.
As Republican candidates for president debate among themselves about how to engage with the world – or in the case of Ron Paul, whether to engage at all – the world is changing so fast that even foreign policy experts are struggling to keep up.
An "Arab Spring" sweeps North Africa and the Middle East, and what was once considered unthinkable – a government led by Islamists – is now a reality in Tunisia. And yet, perhaps that is the best hope for democracy in that country. The US begins to pull out its combat troops from Iraq, and the country most likely to benefit from that pullout and retain influence in a post-war Iraq is America's rival, Iran.
James Traub, in this week's Foreign Policy magazine, takes a look at the current foreign policies of Republican challengers. But history shows that firm ideals stated during a political campaign can quickly be abandoned, he points out.
"Bill Clinton thought he was a human rights-driven idealist until he found out how hard it is to do the right thing; Bush thought he was a hardheaded realist until the 9/11 attacks turned him into a true-believing democracy promoter. Who they are probably matters more than what they think, or what they think they think. As Elliott Abrams, the neoconservative ex-aide to Bush and Ronald Reagan, says, 'What really matters in the end is character.' "
---