In flooded Bangkok, a little bit of water can't stop business
(Read article summary)
Bangkok residents, unfazed by the floods that have created water levels as high as three feet, kept their businesses and transportation open.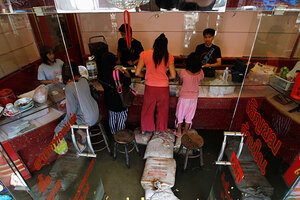 Sukree Sukplang/Reuters
• A local, slice-of-life story from a Monitor correspondent.
Sitting on stools at a mobile eatery set up on the street, laborers and office workers slurped bowls of noodle soup. That's a common sight around Bangkok – except these locals were up to their knees in water.
Despite the deluge that has engulfed central Thailand and is threatening to submerge this thriving metropolis, life in Bangkok's Chinatown went on pretty much as usual one recent morning.
Here, protected behind sandbags piled waist high, an apothecary was open for business. There, a lottery vendor plied her trade. Farther on, a woman was selling newly made wading boots for 150 baht ($5) a pair. Several gold shops, seafood restaurants, and convenience stores stayed open. Water in a 7-Eleven swirled ankle deep. An employee was shoveling some of it out the door with a plastic scoop.
Locals clearly are not going to let a natural disaster get in the way of earning a living. Most endured their plight with equanimity, flashing ready smiles. Children frolicked in streets transformed into pools as their elders went about their business wading in water, which was up to three feet deep in places. 
Even transport carried on. Overflowing sickly brown river water has slowed the city's notorious traffic to a trickle, but buses continue to navigate their way through streets past locals bobbing in skiffs and inflatable dinghies. 
"People are concerned about the flood, sure," noted Rungtip Chatadee, an office manager who was having breakfast at a waterlogged restaurant. "But they try to look on the bright side and cope as best as they can."
---