Clinton announces $10 million in Thailand flood relief aid, Bangkok distracted by politics
(Read article summary)
US Secretary of State Hillary Rodham Clinton announced a $10 million aid package for Thailand flood relief during a visit to Bangkok Wednesday.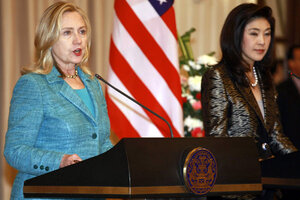 Apichart Weerawong/AP
Both US Secretary of State Hillary Clinton and United Nations Secretary-General Ban Ki-moon paid visits to Bangkok today as a fierce political debate threatens to destabilize the flood-ravaged country.
Mrs. Clinton announced more than $10 million in extra flood relief assistance, telling media in Bangkok that she "admired the resilience of the Thai government and people."
Areas of the capital, Bangkok, are still under water almost four months after the Thailand's worst-ever floods grabbed headlines worldwide. The official death toll is now at 564, and several neighborhoods of Bangkok were today ordered to evacuate as water slowly drains through Bangkok toward the sea.
The night before the high profile arrivals, however, the Thai government discussed an official pardon for some 26,000 felons, possibly including fugitive former Prime Minister Thaksin Shinawatra, who was ousted in a September 2006 coup and faces two years jail time for corruption in office.
The mere hint of his return to Thailand has riled the country's opposition.
---