Good Reads: So Western nations have failed to cut spending. What's next?
(Read article summary)
With a US Congress 'super committee' unable to cut spending and Britain's government also struggling, the West is looking like a wastrel; and Cairo's Tahrir Square seethes once more.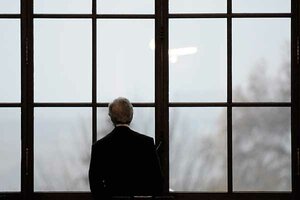 Jonathan Ernst/Reuters
The front pages today appear to be full of failure: failure of the US Congress's "super committee" to bring down spending in line with tax revenues; failure of Britain's government to bring down its own rising levels of debt; and failure (thus far) of Egyptian protesters to push the country's military from political control of the government.
Reading a story about failure requires a certain amount of masochism, unless one is looking for clues on how to learn from this failure and to improve. The articles in today's Good Reads push the news beyond failure and dole out golden nuggets of explanation and context to consider. So let's learn, shall we?
In today's New York Times, Binyamin Appelbaum and Annie Lowrey write about the likely economic consequences of Congress's inability to come up with a compromise on spending cuts. Instead of finding a gentler way to reduce spending, Congress has essentially put the country into a form of receivership, where the law will now require equal cuts of new spending in both defense and domestic budgets.
Not only will this mean deep cuts in military programs and health care, but the Times' writers say it also "threatens to significantly slow growth in an already ailing economy by raising taxes on almost everyone while reducing government spending on almost everything."
But, wait: Mr. Appelbaum and Ms. Lowrey find an economist who finds a lesson in all this.
---