Good Reads: Why British diplomats consider Tehran a 'hardship post'
(Read article summary)
Yesterday's rampage by Iranian 'students' are just the latest example of how Iranian domestic anger gets focused on diplomats.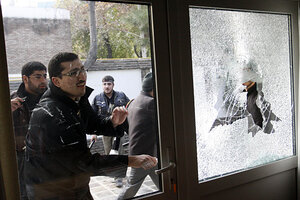 Abolfazl Salmanzadeh/Mehr News Agency/Reuters
With troops pulling out of Iraq and drawing down in Afghanistan, the global war on terror appears to be all but finished. But the reverberations from that war may be felt for some time.
Earlier this week, US-Pakistani relations took a dive because of a NATO bombing raid on a Pakistani border post that killed 24 Pakistani soldiers. Yesterday, Iranian students and members of an elite volunteer militia called the "Basij" – apparently not held back by Iranian police – jumped the fence and raided the British Embassy in Tehran, prompting London to pull back most of its diplomats there. Foreign Secretary William Hague warned that there would be "serious consequences."
America's and Britain's relations with Iran – which appeared to be moving toward rapprochement in the early days following Sept. 11 attacks – have since taken a nosedive after Bush administration officials increasingly attempted to draw links between Iran's security services and Al Qaeda as well as concerns about a covert Iranian nuclear weapons program. In that context, yesterday's protests by Iranian students make sense, but what would get them so angry to raid the British embassy is a bit hard to explain. The Guardian's Riazat Butt does write, in his penultimate paragraph, this explanation.
---