Good Reads: On World AIDS Day, global relief funding stalls
(Read article summary)
The results from international public funding for AIDS treatment have been impressive, but the Global Fund has suspended new funding, and US papers give World AIDS Day a pass.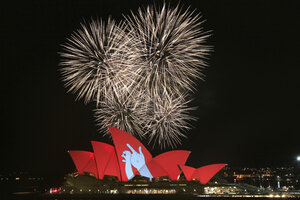 Rick Rycroft/AP
It was 30 years ago this month that Britain first diagnosed its first HIV patient, the British paper The Telegraph writes, and 30 years ago this year that an American medical journal published the first article about a strange disease that seemed to be targeting men in Los Angeles.
Much progress has been made since world leaders decided to do something about AIDS, since public campaigns changed the public mindset about AIDS as a "gay plague" and took it seriously as a shared health problem that needed to be solved, and quickly.
The breakthrough came from the very public health institutions, such as the British and American National Institutes of Health that are now facing heavy budget cuts. Later, it was state-funded initiatives like President George W. Bush's President's Emergency Program For AIDS Relief (PEPFAR) and philanthropic contributions from the Bill & Melinda Gates Foundation and the Clinton Foundation that helped make the nascent HIV treatments available and affordable to millions of people living in poorer countries.
The results have been impressive: a global drop of HIV infection rates, and a form of treatment that allows 33 million people to live normal lives with HIV. As a reporter based in South Africa, I met and wrote about young children who were given a second chance at life through drugs provided by PEPFAR. A good friend of mine, who was skeletal when he finally allowed himself to be taken to a doctor, had essentially given up on life when he was diagnosed with HIV. Today, after anti retro-viral treatments, he's so healthy he has to watch his weight.
---