Good Reads: China faces unrest as economy slows
(Read article summary)
The rest of the world was hoping China's booming economy would pull everyone else out of economic slowdown, but now even China appears to be slowing down.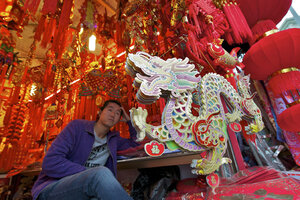 AP
Ask a US State Department analyst what keeps her up at night, and the answer will likely be China.
It's probably not because China has an elite corps of female commandos. It's probably not because China has now become the world's largest emitter of carbon-based pollution. And it's probably not because China is well on its way to becoming a global superpower. If anything, US foreign policy analysts probably wish China all the best at superpowerdom and hope they achieve that status sooner.
Why? Because if China's robust economy continues to grow in this economic downturn as it has been, it is one of the best hopes other nations have of providing the basis for a global turnaround. If China continues to buy raw materials from Africa, oil from the Middle East, and debt from the US and Europe, then perhaps the global economy can crawl out of the current morass it is wallowing in.
Unfortunately, there are signs that the Chinese economy is beginning to slow down. Worse than that, there are signs that the ever-patient Chinese citizen is getting tired of producing the world's low-priced gadgets and playthings for low wages and have taken to protesting. With so much of the world's economy now depending on China's growth, a tumultuous Chinese slowdown could extend problems in countries that have already endured three or four years of sluggish growth.
---