Attacks on Shiites in Afghanistan: Why this is different than Iraq
(Read article summary)
Afghan domestic politics revolve more around ethnicity than differences between Sunni and Shiite sects of Islam. Bomb blasts may be aimed at confidence in Afghanistan's government.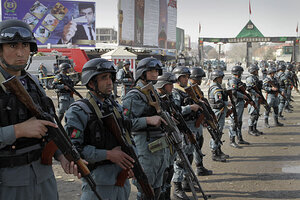 Musadeq Sadeq/AP
A series of coordinated bomb attacks in three Afghan cities, targeting Afghanistan's Shiite community during a holy procession, has spurred debate over whether Afghanistan is on the verge of a huge sectarian clash.
It's tempting to see parallels between sectarian attacks in Afghanistan and those in Iraq, where Sunni-Shiite violence has in the past pushed that country toward civil war. But Iraq and Afghanistan have less in common than would appear to be the case, and there is nothing in Afghanistan's history or in its present political environment to suggest that the attack on Shiite worshippers will be the spark of a larger and longer-term Sunni-Shiite conflict in Afghanistan.
As the Monitor's man in Kabul, Tom Peter, points out, the greater tensions in Afghanistan exist between insurgents and their government than among various religious or ethnic groups vying for power. Iran, Pakistan, and Saudi Arabia may support various factions within Afghan society, but no single group is in a position to deliver the knockout blow and come to power. In the meantime, the simpler answer for what motivated the Tuesday bomb blasts – which killed some 59 people in Kabul, Mazar-e-Sharif, and Kandahar – may have been to shake confidence in Afghanistan's security at a time when donor countries were meeting in Bonn to support that country's future development. Afghanistan is likely to rely on foreign aid well after US troops withdraw over the next five years.
---