Chained children in Pakistan: Not an uncommon treatment for addicts
(Read article summary)
Police rescued dozens of students at an Islamic seminary in the Pakistani city of Karachi. Chaining is not unheard of for drug or mental health treatment in the region.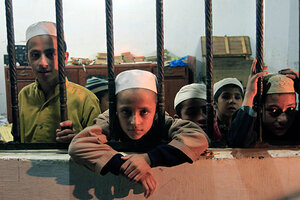 Shakil Adil/AP
Police rescued dozens of students at an Islamic seminary Monday in the Pakistani city of Karachi, saying that some of them were drug addicts kept in chains. While the case has gained global notoriety, this form of "rehabilitation" is not unheard of in the region.
The Associated Press reported that parents of some 60 youths paid the seminary to "treat their children through a regime of Islamic instruction and worship, or simply to take them off their hands."
Chaining as a form of rehabilitation goes on in other religious institutions in the region, most notably Sufi shrines. I reported for the Monitor in 2009 on a shrine outside Jalalabad, Afghanistan, where families would leave relatives who were mentally ill or addicted to drugs.
A standard treatment at the shrine was to chain a patient for 40 days, either in a small cell or to a tree in the courtyard, and administer a strict diet of bread and black pepper:
"Mia Sahib, one of the shrine-keepers, explains that his patients are possessed by demons known as djinns. For some, he offers a taweez - a Koranic verse written on a slip of paper. Others require 40 days of confinement.

"A mental patient doesn't know himself," explains Mia Sahib. "In 40 days, he is going to know himself fast. He will know he has some djinn inside. Once he knows he has a djinn inside, he will clean himself. And once he cleans himself, he will know Allah."
---