Prohibition: India's and America's shared lessons in fight against alcohol
(Read article summary)
This week's death toll of more than 100 in the Indian state of West Bengal point to India's well-intentioned motives but mixed record in restricting the sale of alcohol.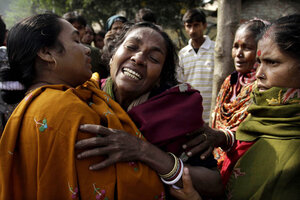 Bikas Das/AP
When more than 100 Indians died after consuming illegal alcohol in the state of West Bengal, the first thing that the state governor promised to do was to crack down on the people who produce the liquor.
"I want to take strong action against those manufacturing and selling illegal liquor," West Bengal's chief minister, Mamata Banerjee, said, according to Press Trust of India. "But this is a social problem also, and this has to be dealt with socially also along with action."
Seven suspected bootleggers have been arrested, but in a country where such illegal businesses number in the hundreds in most urban areas, this is at best a tentative step.
It's an understandable suggestion for India, whose founding father, Mohandas Gandhi, considered alcohol to be "death to the soul."
But given the history of prohibition in the United States, it's clear that crackdowns on alcohol production and consumption can often be counterproductive. Indeed, a compelling case can be made that the same restrictive laws that India uses to control the supply and sale of alcohol almost inevitably created the conditions in which an illegal alcohol industry would thrive, and put thousands of lives at risk.
As an American reporter based in India in the early part of the last decade, I could see interesting parallels between the histories of India and the United States, at least when it came to alcohol.
---