Sky apples stun English motorists
(Read article summary)
Sky Apples? Motorists in England were pelted by apples falling from the sky, and were left to speculate as to the cause.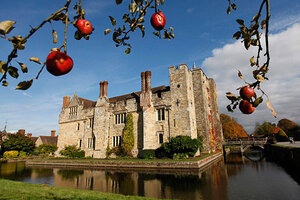 REUTERS/Suzanne Plunkett
In the make-believe town of Chewandswallow, it rains soup and juice, and sometimes it snows ice cream. But who would have imagined that the world created by Judi Barrett in her bestselling children's book "Cloudy with a Chance of Meatballs" would come true one evening in Coventry, England?
On Monday night, it started raining apples.
"I honestly don't know where the apples could have come from," Brian Meakins, a retired truck driver told UK's Daily Mail.
More than 100 apples fell from the sky onto car roofs and windshields of motorists who were traveling through a busy intersection in the English city. The bizarre phenomenon caused traffic congestion, left many wondering what had happened.
A motorist told the Daily Mail that the apples fell out of nowhere. "They were small and green and hit the bonnet hard," she added. "Everyone had to stop their cars suddenly."
Bewildered by the incident, Mr. Meakins speculated: "At first I assumed kids must have thrown them because we do get the occasional egg and apple thrown." "But there's way too many for that," he continued.
British media also puzzled over the rain of apples.
---