Qaddafi's death: Will the ICC launch a war-crimes investigation?
(Read article summary)
International Criminal Court prosecutor Ocampo is asking the UN for authority to investigate the death Libyan leader Qaddafi as a war crime.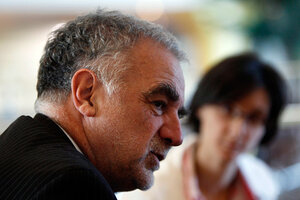 Mohammed Salem/Reuters
The killing of former Libyan leader Muammar Qaddafi may have been a war crime, says the prosecutor for the International Criminal Court, Luis Moreno-Ocampo.
Captured by Libyan rebels outside his hometown of Sirte on Oct. 20, Qaddafi was killed by a mob of National Transitional Council soldiers and put on display in a freezer room in Misurata, as proof that he had been killed.
The circumstances of Qaddafi's death raise "serious suspicions" that he may have been killed in custody, which is a violation of international law, Mr. Ocampo told the United Nations, in requesting the authority to investigate.
"The death of Muammar Gadhafi is one of the issues to be clarified — what happened — because there are serious suspicions that it was a war crime," Moreno Ocampo said.
Reuters news agency quoted Ocampo as saying:
"I think that's a very important issue. We are raising this concern to the national authorities and they are preparing a plan to have a comprehensive strategy to investigate all these crimes."
---