Presidential buzz surrounds leading figure of Russia's protest movement
(Read article summary)
Alexei Navalny, a vocal critic of Putin and leader in Russia's protest movement, could pose a tough threat to his presidential bid.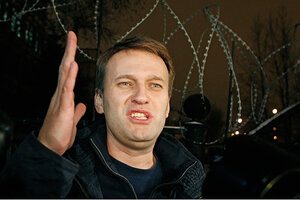 Mikhail Metzel/AP
Russian blogger-cum-folk-hero Alexei Navalny, who is already being discussed as a potential contender to challenge Vladimir Putin in upcoming presidential polls, was released from a Moscow prison Wednesday to the wild cheers of supporters.
Mr. Navalny, whose trenchant and well-documented attacks on Kremlin corruption have migrated from the Internet to the streets in recent weeks, was arrested and sentenced to 15 days in prison after he took part in an unsanctioned rally to protest alleged vote-rigging in Russia's Dec. 4 parliamentary election.
"These 15 days have taught me not to be afraid. I am not alone. We are the majority," he told a jubilant crowd of supporters. "I was imprisoned in one country and am being released into another," he added.
He pledged "extraordinary efforts" to build momentum in the protest movement, which saw at least 30,000 mostly young and middle class demonstrators rally on Moscow's Bolotnaya Square on Dec. 10 to demand that the allegedly fraud-tainted elections be cancelled and re-staged under fair rules and conditions.
---