Dear Escalator? Latest Kim Jong-il shrine is an escalator (video)
(Read article summary)
North Koreans are mourning the death of Kim Jong-il, but the oddest sign of the cult of personality is a shrine at a supermarket escalator.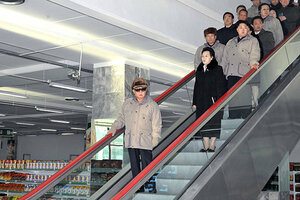 AP Photo/Korean Central News Agency via Korea News Service)
The North Korean government propaganda machine is delivering a steady diet of images of North Koreans mourning the death of Kim Jong-il
We've seen North Koreans wailing, sobbing, and quietly weeping in public plazas, schools, and factories. And, of course, there are the predictable long lines of people waiting to pay their respects at the Dear Leader's see-through coffin on display in Pyongyang.
But perhaps the most unusual expression of the North Korean cult of personality is a "shrine" at a supermarket escalator.
Yes, really.
The North Korean government media released a still photo of what is believed to have been Kim Jong-il's last public appearance before he died on Saturday. He's riding an escalator into a new supermarket in Pyongyang. The photo is undated, but the Korean Central News Agency reported separately that Kim had visited a supermarket on Dec. 15, 2011 – two days before his reported death.
North Korean mourners are now gathering at the escalator to pay their respects (video below).
"I can't imagine how happy it would make us and our fellow citizens if he could ride on this escalator again," said one North Korean woman, amid a group of mourners, weeping around the moving staircase, according to Euronews story. "I still feel that he is alive, with his bright smile. I can also hear his voice."
---
Follow Stories Like This
Get the Monitor stories you care about delivered to your inbox.