Hearing to end today on possible court-martial for Bradley Manning
(Read article summary)
Pfc. Bradley Manning is accused of leaking hundreds of thousands of US military and diplomatic documents to Wikileaks website. His defense attorneys argue that weak oversight is to blame.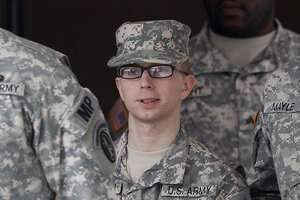 Patrick Semansky/AP
Pre-trial hearings to decide whether to court-martial Pfc. Bradley Manning – the soldier accused of stealing and leaking hundreds of thousands of top-secret documents to the Wikileaks website – are expected to end today. But Private Manning's adventures in the US military justice system appear to be just beginning.
Manning's defense attorneys called just two witnesses to the stand to testify about Manning's emotional outbursts while working in an intelligence analysis unit in Iraq in 2009 and 2010. Highlighting the outbursts could indicate that the defense team hopes to explore the extenuating circumstances behind Mannings actions of leaking 400,000 field reports from the wars in Afghanistan and Iraq, as well as some 250,000 US State Department cables.
Given the importance of this case – Manning's alleged actions have been described as the single largest intelligence breach in US history – it is unlikely that Manning can avoid a court martial. The question is whether Manning's defense strategy could reveal more about the inner workings of the US military's intelligence operations, the missteps of Manning's superior officers, and even the alleged human rights violations that may have prompted Manning to leak the information in the first place.
---