Is France's Armenian Genocide law merely a domestic ploy for votes?
(Read article summary)
The diplomatic repercussions of the vote in France to criminalize denying the Armenian Genocide have been substantial, but so are the domestic benefits.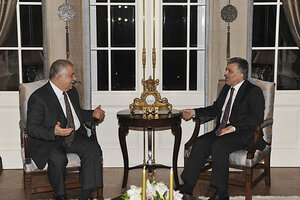 Murat Cetinmuhurdar/Presidential Palace/Reuters
Lawmakers in France's lower house last week voted to make it a crime to deny the Turkish Ottoman genocide of Armenians in 1915, citing human rights and the protection of memory. Violators will receive a one-year jail sentence and a nearly $70,000 fine.
Diplomatic fallout has been severe, with Turkey withdrawing its ambassador to France amid an angry nationalist backlash. Turkish Prime Minister Recep Tayyip Erdogan said French massacres in colonial Algeria were themselves a genocide, and has since vowed "retribution" for the French law that treats with an issue in Turkey that has never been resolved.
But France's righteous ire about the Armenian genocide couldn't mostly be about French politics, about currying favor with an estimated 500,000 Armenian heritage French ahead of a tight election, could it?
Consider some relevant data points: In 2001, just ahead of national elections, France officially recognized the Armenian genocide. In fall 2006, again just before the elections that brought President Nicolas Sarkozy into office, French politicians threatened to criminalize the denial of the genocide of Armenians with a five-year prison sentence. Now, just ahead of presidential elections this spring, President Sarkozy's ruling party led the first-time law to criminalize denying the 1915 genocide. * Correction: The original text misstated when France officially recognized the Armenian genocide.
---