2011 Reflections: Africa rises, taking charge of its affairs
(Read article summary)
Seven Monitor correspondents reflect on the world's hotspots. In this installment, Scott Baldauf says Africa showed signs of both the willingness and ability to solve their own problems in 2011.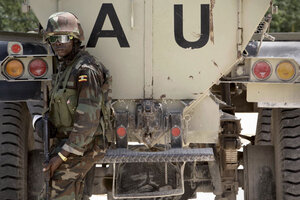 African Union
With its famines, wars, and corrupt leaders, Africa was called "hopeless" by The Economist magazine in 2000.
Today, demand for Africa's natural resources, combined with stronger political leadership and growing entrepreneurship, make Africa a rare bright point in the global economy.
Certainly there are plenty of trouble signs in a continent that has 54 countries, many of them landlocked and desperately poor. Too many countries are ruled by authoritarian men. Many are saddled with punishing debt, unemployment, and undereducated youths. Some, like Kenya, Zimbabwe, and Ivory Coast, experience bouts of violence when tight electoral contests are disputed.
But this year brought new signs that Africans can solve – and are solving – their own problems.
The African Union is taking an increasingly independent stand on how to solve African problems, and some of Africa's stronger economic and military nations appear to be borrowing a few lines from America's Monroe Doctrine, indicating that Western "interference" in Africa is no longer welcome.
---