2011 Reflections: What happened to the US debate on Afghanistan?
(Read article summary)
Seven Monitor correspondents reflect on the world's hot spots. In this installment, Ben Arnoldy is bothered by silence on the war because, unlike him, US troops can't choose when to come home.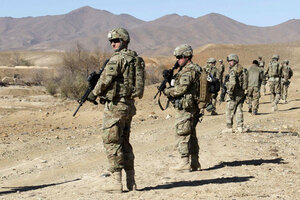 Umit Bektas/Reuters
It's the middle of the night and I've just been awakened by an explosion. Standing in the dark of the Afghan guesthouse, I hear gunfire approaching.
I am the only Westerner in Baharak, a far-flung town. My curiosity turns to fear. I start looking for a hiding spot. Then, mercifully, the guns fall silent.
During my three years in the region, it was times like these that made me consider whether I wanted to keep reporting on Afghanistan, where the US involvement is entering its 11th year. Was it worth the risks if few Americans seemed to be paying attention to the conflict?
Since my move back to Boston in November, I'm still bothered by the neglect of the war because, unlike me, roughly 90,000 US troops over there cannot choose when to come home – that's up to us, the electorate. So far, I have encountered few real debates or deep curiosity here about this mostly forgotten war, just the occasional sentimentality for the troops.
"When did you get back?" the receptionist at the dentist asked me recently. "They didn't have you stick around to cover the end of the war?"
"I wasn't going to stay another three years – or more," I said.
Confused, she said: "I thought the war just ended."
"Oh, that's Iraq," I said.
"Where were you again?" she asked. Afghanistan does feel impossibly far away here. Even the scenes that play back in my mind look a bit like the moon.
I remember piling into a light armored vehicle, a military version of a duck boat. I was embedded with a group of US Marines in the far south.
---