Bomb Iran? Where Mitt Romney and Rick Santorum stand.
(Read article summary)
The two strongest Republican candidates to emerge from the Iowa caucuses, Mitt Romney and Rick Santorum, both are open to bombing Iran's nuclear weapons program.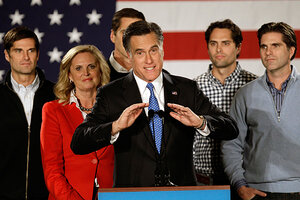 Charlie Neibergall/AP
Republican candidates Mitt Romney and Rick Santorum emerged as the twin frontrunners after the Iowa caucuses on Tuesday, and this is likely to have interesting reverberations for Iran.
Why Iran? Because both former Gov. Romney and former Sen. Santorum are hard critics of the Obama administration's handling of the country that Romney sees as America's largest threat. Both men have said they would bomb Iran if that country developed nuclear weapons. Both believe that Obama's efforts to negotiate with Iran sends a signal of weakness. And if one of these men emerges as the Republican candidate to go up against Obama, the Republican party will attempt to play to what it regards as its strength – security and foreign policy – and the rhetoric against Iran is only likely to grow sharper. (Editor's note: An earlier version of this story misstated that Iran had a declared nuclear weapons program.)
Obama's approach to Iran, of course, is shaped by his campaign promise to abandon the unilateralism of the Bush administration, and to work closely with America's allies to deal with mutual threats, using methods short of war. While the US took the lead in dealing with supposed threats in Iraq – launching the war promising to go after Saddam Hussein's alleged "weapons of mass destruction" – Europe has taken the lead in dealing with Iran through "critical dialogue" and reminding Iran of its promises to prevent the spread of nuclear weapons.
---